THE CAMP
COACHES
INFOS
PHOTOS
GUEST BOOK
CONTACT

American Sports Centers, Anaheim, California
International Basketball Summer Camp
From 13 to 18 years old
Dear Campers,
Summer is the "perfect time" to improve your basketball skills & game. ABA Camp allows you to prepare correctly for your next season. ABA was created thanks to a team of international elite coaches who have come together and combined their strengths to bring you the best basketball teaching experience in the world.
ABA passes on the knowledge of the game to help you learn the right way, and reach your goals as a player and person. our team is composed of Elite High School/AAU Coaches and a staff with NCAA Division-1, NBA, LNB France, and FIBA playing experience.
The ABA camp focuses on developing your individual basketball skills and teaching the fundamentals of the game. We use adapted physical training combined with basketball for the most significant results. This training, associated with high level games/competitions, will help you reach your fullest potential as a player and athlete.
The ABA Camp was created by Cherokee Parks and Johan Rat. Cherokee and Johan basketball experience includes: US and French High School, NCAA Division-1, NBA (C. Parks), LNB (J. Rat). Both Johan and Cherokee possess FIBA experience. Thanks to an exclusive partnership with the "SoCal (Southern California) All-Stars" the number 1 AAU program in California, and the USA, the ABA Camp provides a unique experience for all who seek to accept the challenge.
"SoCal All-Stars" was founded by basketball legend, coach Pat Barrett. That's more than 30 years of history he has accumulated. Coach Barett has seen some of the best amateur players to ever play the sport in America, and counts 65 players who made it to the NBA.
"COME SHOOT FOR YOUR AMERICAN DREAM, THE SKY IS THE LIMIT"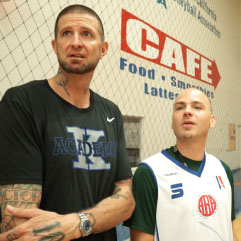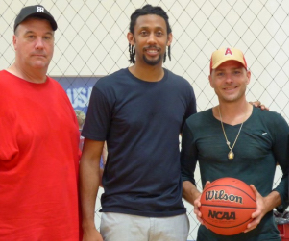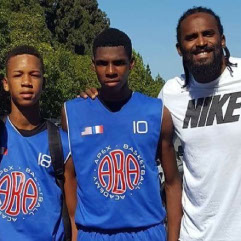 The American Sports Centers (ASC), Anaheim California, is the largest indoor court facility in the world, features 34 volley ball courts which convert into 25 basketball courts. ASC is home to USA Volleyball's Men's and Women's National Teams, the "Open Gym Premier Basketball Academy and Tournaments"; Double Pump, NCAA Basketball Viewing Events, SGV Basketball Tournaments, and a growing number of divers basketball events. ASC is as well used by NBA players, the likes of: Kobe Bryant, Kevin Love, Brandon Jennings, Stanley Johnson, for training and off-season preparation.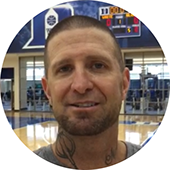 Former NBA player:
Mavericks, Timberwolves, Grizzlies, Wizards, Clippers, Spurs, Warriors
NCAA D1 Chp with Duke Blue Devils in 1992.
Drafted in 1995 by Dallas Mavericks with the 12th Pick.
2 Times Fiba World Champion U19 & U21 with Team USA in 1992 & 1993.
Today Basketball Coach.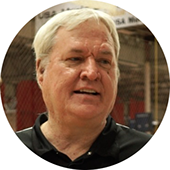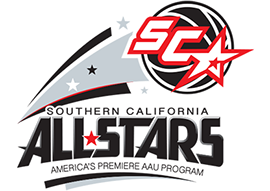 Founder & CEO of "So-Cal All-Stars"
N1 AAU Program in California & the USA
65 Players from S-C All-Stars play(ed) in the NBA:
Cherokee Parks, Kevin Love, Tyson Chandler, Brandon Jennings, Klay Thomson, Tayshawn Prince, Josh Childress, Stanley Johnson, Delon Wright...
Over a 1000 Player with NCAA D1 Scholarships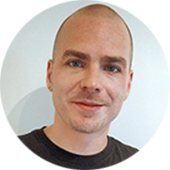 Former Pro Player (LNB, FIBA, FFBB) & NCAA D1.
The Citadel S-C: Bachelor of Science in Physical Education, Health Wellness & Nutrition, Class of 2000.
Today NCAA TV Consultant for SFR Sport 2 (France)
Consultant in Sport Development:
High School AAU / NCAA / NBA SPL.
Basketball Coach, Scout & Analyst.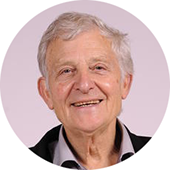 President of JOM Association:
" The Culture & Sport for the Dignity "
France All of Fame inductee 2014
Founder & President of CFBB (INSEP) since 2015.
Head Coach of U16/ U18 France Nat. Teams since 1983.
81 selections for the France Nat. Team(60's)
France Nat. Basketball Champion 1963 with PUC (Paris)
"BY FAILING TO PREPARE,
YOU ARE PREPARING TO FAIL"
The ABA Camp is a Basket-ball Camp with a schedule especially customized for you and detailed underneath. The camp's premium's objective is to develop young basketball players as individuals, and as members of a team / group and basket-ball unit, on and off the court.
During the camps children will be placed in teams based upon age and skill level. We will work on developing the player's overall basket-ball skills, mental, and athletic ability.
European and foreign participants will play against various US " Basketball Academies " during the full duration of the Camp. This full experience deep within the shared American culture, will allow you to truly appreciate the American and European game culture thanks to the love of sport.
The instructions during the Camp will be given in English to help you develop the understanding of the language and US culture.
Camp is divided into 3 parts, click on each to discover them.
A regular day at the ABA Camp
Basketball fundamentals: offense and defense, shooting, passing, dribbling.
Physical training: basketball combined with specific physical training exercises
Beach, touring & Fun !
Laguna Beach, Huntington Beach, Newport, Santa Monica and Venice Beach. MLB Angels Baseball Game, Visit of Hollywood, shopping (Mall & Outlets) swimming Pool & billiard.
5/5 Euro Team vs. US Team: AAU and International.
Skills Challenge, Shooting Contests.
Ceremonies: Awards & Trophies.
HIU, Hope International University, Anaheim
Hope International University is a prestigious Elite Christian University, founded in 1978. A beautiful campus, in the heart of Orange County, only a few minutes away from the American Sports Center. lodging, bedding, meals, classroom, and swimming pool will be available for the ABA Team. Final 4 NAIA basketball school.
ABA Campers meet basketball stars from the NBA:
Ronny Turiaf, Cherokee Parks, Josh Childress, John Stockton, Brian Shaw...
Click here for more infos !
Need more infos, contact us !
00 33 6 22 07 67 20
[email protected]
83 Quai Joseph Gillet
69004 Lyon - FRANCE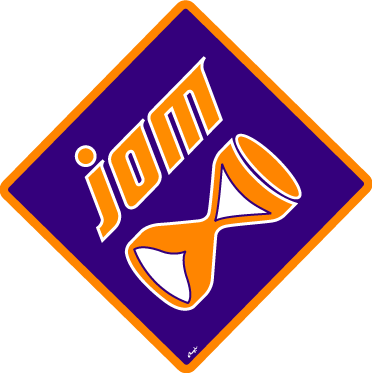 JOM
"The Culture & Sport for the Dignity"
at the American Sports Centers,
Anaheim, California
ABA CAMP EXCLUSIVE PARTNERS & TEAM
N1 AAU program in California
First Basket-Ball Camp in France
Heart to Heart foundation
JOM "La culture et le cport pour la dignité"